Sign Up For Our Newsletter
Enter e-mail to receive exclusive contests, sale offers, new product info, video launches and much more from Cruiser SUP®
XCURSION CLASSIC Hard Shell Paddle Board By Cruiser SUP®
Premium Quality Xcursion™ Hard Shell Non-Inflatable Paddle Board...With 

Cruiser SUP® 

Brand Registered Trademark.

 

Cruiser SUP® multi-layer solid boards are backed By Two Year Warranty.



We do not offer Inflatable & Soft Top boards, due to inferior quality, performance and durability.

  We Build Them - We Know Them! SUP Experts For 19 Years. Surf Industry Leading Service For 29 Years.
Why you'll love it...
• Most Scratch and Ding resistant. You can hit it with a bat!
• Best combination of durability and light weight
• Very stable, easy to use
5 star rated CruiserSUP® Xcursion™ Classic features Dura-LITE™ ultra durable polycarbonate shell construction with integrated rail bumper. Multiple bungee cord tie down attachments. Screw-less Center Fin, Premium full length deck pad making the Xcursion™ ideal for tandem paddling, yoga, fishing, paddling with kids or pets.
It's right for you if
You want a board that offers not only great performance, but industry leading durability. Made with Cruiser's Dura-LITE™ Polycarbonate Shell technology, the Xcursion™ is ideal for those looking for a light weight board without any durability sacrifices

The final word
Maximum durability, with light weight - from 27 pounds.  The ideal board for families, cottages, lake houses or summer camps as the ultra durable construction will offers years of worry free SUP fun.


Why The Xcursion™ Classic Is Better Than Competitors Boards
• Dura-LITE™ Shell Rigid Board - Performance, Convenience, Ease of Use and Safety
• 2 Year Warranty - Compare Competitors 60 to 180 Day Warranty
• Dura-LITE™ Polycarbonate Shell For Durability & Ding Resistance
• Full Length Comfort Top™ Deck Pad For Grip, Safety & Durability
• Tool-Less Touring Center Fin
• Nose and Tail Bungee Cords
• 2 Breathable Valves For Long Term Durability. Prevents de-lamination.
• Lockable EZ-Grab™ Carry Handle
• 2 Great Sizes For Best Fit - Our Experts Can Advise Best Size For You
• Precision Shaped Bottom For Stability, Versatility & Glide
AVAILABILITY ALERT - Very Limited Quantities In Stock
Beat The 2024 Price Increase. Don't Miss Out - Order Now.
Live Chat for Transit Time To Your Zip 

Click Here For Xcursion Classic Two Board Package Savings.

Our premium quality paddle boards are a lifetime investment for many customers - well worth the short wait!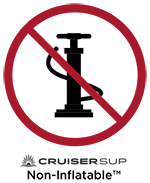 Recommended Size Chart & Technical Specifications
XCURSION CLASSIC Hard Shell Paddle Board By Cruiser SUP®
The charts below show our recommended sizes based on weight, but there are other factors (balance, ability, experience, conditions, carrying kids or dogs and intended use) that determine a great fit. That's why you'll see some overlap in our recommendations. The best way to find your perfect fit is to consult the experts at Cruiser SUP.
Construction:
Dura-Lite™ Hard Shell
ABS/Polycarbonate/Fiberglass/Kevlar reinforced